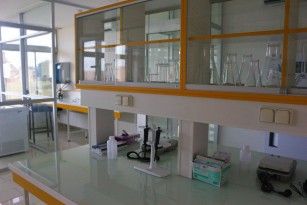 On 23 July 2016, the West African Virus Epidemiology Project (WAVE) launched the state-of-the-art WAVE Centre at the Université Félix Houphouët-Boigny in Abidjan, Côte d'Ivoire. The Centre will now be used to support the team's crucial work on diseases affecting cassava, a staple food source for hundreds of millions of people.
The WAVE team began work on the new Centre following the project's launch in March 2015. The passion and determination displayed by WAVE Project Lead, Dr Justin Pita, when explaining his vision for the WAVE Centre last March indicated at the outset that the Centre would be successfully built.
Since then, an empty shell has been transformed to a well-equipped Centre containing a molecular biology lab, a tissue culture lab, a lecture theatre, offices and an outdoor break-out area. The fact that the Centre was built so rapidly is testament to the energy and commitment of the project team. The renovation was not without its challenges – including procurement of the right equipment to Abidjan. Such challenges were, however, overcome by using existing WAVE networks and working in collaboration with other institutions.
The WAVE Centre launch event on 23 July was attended by government ministers, international ambassadors, donors and representatives from the scientific community.