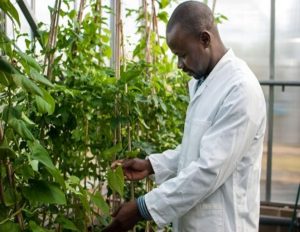 Kebbi State University of Science and Technology Aliero (KSUSTA) has received new federal funding aimed at increasing the capacity of its researchers and procuring advanced laboratory equipment. The laboratories at KSUSTA are home to two AgShare.Today partner projects that will benefit from this funding: the Cassava Viruses in Northern Nigeria Project (CVNNP) and the Yam Badnavirus Project (YBP).
AgShare team members from both of these projects will have access to the new equipment provided by this grant, including a UV spectrophotometer, a temperature-controlled centrifuge and a new PCR sequencer. This equipment will allow researchers from YBP and CVNNP to test their survey samples locally and give them access to more accurate levels of analysis. Thanks to this grant, scientists at KSUSTA will also receive training in using the new equipment to ensure that it is used to its maximum potential for testing and analysis.
This new source of funding was awarded to KSUSTA in April through a local body of the Tertiary Education Trust Fund (TETFund). TETFund has disbursed grants to researchers and universities across Nigeria, with scientists at KSUSTA being awarded over US$50,000 through the fund so far.
The AgShare.Today partner projects CVNNP and YBP are both working to characterise and diagnose root crop diseases in Northern Nigeria, focusing on cassava and yam respectively. To learn more about CVNNP or YBP contact e.moulding@agshare.today.