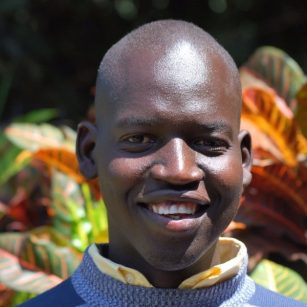 Godfrey Wokorach has been presented with the AgSharer of the Year Award for 2016. Godfrey is a PhD student on the Sweet Potato Virus Detection Tool (SPVDT) project in Uganda.
The AgSharer of the Year Award recognises members who have made significant contributions to the AgShare.Today community and rewards them for their achievements.
Since Godfrey joined the AgShare.Today community, he has been highly engaged with AgShare.Today and has embraced the sharing culture that the project promotes. He has learned new skills in project management, IT and data visualisation and has gone on to willingly share these skills with other team members. He has also generously made a large amount of research available that will enrich the resources available to every member of the community.
In response to receiving the award, Godfrey told the AgShare.Today team, "I am extremely happy for this award. May I take this opportunity to humbly request all the members of AgShare.Today to embrace the culture of sharing ideas using AgShare.Today and Yammer platform. There are interesting things that you will learn and benefit you as individual and your research group."
As was presented with a macro photography lens as an award his continued engagement. The lens will assist Godfrey in taking high-quality, close-up photos with his project's tablet or mobile phone in the field or in the lab.
To find out more about Godfrey's work, click here to read his article on the role of ICT in agriculture in Africa.