The African Cassava Whitefly Project (ACWP) team has recently discovered that whitefly species previously believed to be Bemisia tabaci can be proven to be different species of Bemisia from the physical characteristics of their larvae.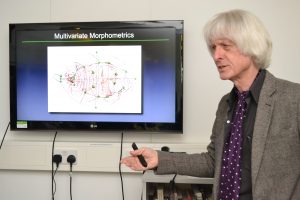 Dr Andrew Polaszek, ACWP scientist based at the London Natural History Museum, has collaborated with morphometrics expert Professor Norman MacLeod, agricultural entomologist Dr David Ouvrard and entomologist Roy Canty on a morphometric analysis of the developmental stages of the Bemisia tabaci species complex. Their morphometric analyses have proven statistically that Med. Uganda, SSA1-SG1, SSA1-SG3, SSA3-298 and Sud-S exhibit distinct patterns of morphological variation which are similar to what would be expected from different Bemisia species. 
ACWP is one of several projects working with AgShare.Today to speed up the sharing of data and results. Other ACWP scientists using crossing experiments and genetic assays have also detected differences that are consistent with expectations of species-level differentiation. 
The Natural History Museum team's work focuses on identifying and defining the identities and nomenclature of the African cassava whitefly species associated with superabundance. Whiteflies are known to transmit diseases in staple food crops cassava and sweet potato. An in-depth understanding of the pest is key to preventing the further spread of these diseases, which cause stunted growth and rotting in crop roots and impact on Africa's food security. The team's recent discovery is yet to be published. 
You can watch this video to learn more about the Natural History Museum team's work on Bemisia taxonomy.