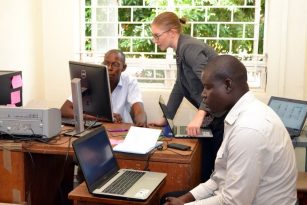 AgShare.Today has been shortlisted for the 2018 British Expertise International Awards. These awards recognise outstanding international projects, and the AgShare team is very proud that the project has been shortlisted, particularly considering the significant size and capabilities of the other organisations and projects we are competing against. This nomination is not just the result of work by the AgShare core team, but also stems from the hard work and dedication of all of the project's partners and stakeholders.
Funded by the Bill & Melinda Gates Foundation (BMGF) and working in Partnership with Cornell University, AgShare aims to accelerate the outputs and impacts of crop research programmes that aim to combat hunger in Africa. These programmes have received over US$60million in funding from the BMGF and the UK's Department for International Development (DFID). AgShare.Today is focused on boosting efficiency and impact by improving collaboration across these projects, building partnerships and ensuring that results and information are shared widely.
The winners of the British Expertise International Awards will be announced in April 2018.
If you would like to know more about AgShare.Today, please email m.millan@agshare.today